September 10th, 2009 7:04 pm by Erica Gilbert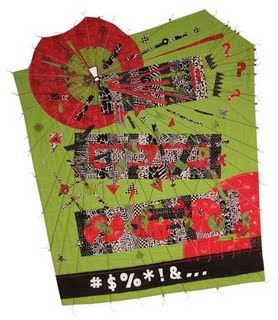 Tomorrow (September 11th) marks yet another fabulous exhibition Premiere Party at the Fayetteville Museum of Art.
Starts at 6pm, lasts until 8pm.
$5 for an open bar, live band (SEQUOYA from Durham), light hors d'oeuvres, a chance to mingle among art lovers, a gallery talk, etcetera etcetera… and oh yeah, if you are a member… WELL YOU CAN JUST KEEP YOUR FIVER. IT IS FREE.
So bring you and yours out. Why? For a fogey quilt party? Read on. You should be convinced by the end of the blog. (at least I hope, or otherwise I wouldn't be writing the thing!)
A beautiful internationally juried exhibition of contemporary quilts that comment on a variety of relevant societal issues… this exhibition creates a quiet way for you to come out and reflect on the anniversary of September 11th, as it represents many things inherent to our country and its values… comfort, family, cohesiveness, taking a stand on something you believe in, warmth (both physical and psychological). Quilting has a long history from a variety of culturally rich nations serving different purposes— to relate ancestral stories to the next generation, represent and present a specific culture, nation, and so on.
The quilts featured in this exhibition are "art quilts" and are distinguished from other quilts, as they are created with a larger vision and message in mind, though they use some of the same techniques and communicate messages just as traditional quilts might. The intricate images created and displayed through fabric is absolutely stunning, and almost unbelievable. One can only imagine the process, planning, and pricked fingers that went into each and every quilt that is currently hanging on the gallery walls. Initially, quilts may have a negative connotation— seem old fashioned, irrelevant, and perhaps even boring. It is entirely untrue. The quilting world is rich with artists of all ages, all with something interesting to say. Each quilt is drastic in its originality and vision. Some are landscapes. Others wildly abstract with no solid image. Others offer societal commentary (one in particular on terrorism). It is a show teeming with individual revelations. I can promise you will connect with one. Additionally, this exhibition presents a unique opportunity for the gallery viewer to reflect on 'family', whether it be from the firm sense your own family gave you, or the one that you created for yourself, or perhaps it will inspire a sense of family by looking at all of the fiercely disparate patches and threads coming together to create a unified image (or in some cases, erratic ones.)
If connecting and examining art isn't reason enough, come out to the premiere to support Operation Kid Comfort. This organization brings special quilts to children whose parents are deployed defending our country. Please visit their link to read about the joy they are bringing to children across the nation. You can help by bringing quilting items to the Premiere Party in lieu of your $5 entry fee. (A more thorough list is here: http://www.fayettevillemuseumart.org/exhibit.htm). If you are a member, you get in free anyway, but I'm sure Operation Kid Comfort would appreciate your support too!
Do something cultural with your Friday evening. Don't just do the same dinner out/movie. We'll have a little gallery talk, with everything wrapped up by 8pm! Just in time to head out on the town (for that dinner and a movie) or home to reflect on everything you just took in. Join us at the Fayetteville Museum of Art for something fresh and fun. (We're behind Eutaw Shopping Center off of Bragg Boulevard for those unaware.)
AND. If you miss the party, you can still catch the exhibit through November 1. (but you really shouldn't miss the party, and not just cause I'll be there!)
Hearts and patches and things,
Erica Gilbert
Office Administrator Extraordinaire